SLICTanks by Engineered Fluids
High performance cryptocurrency mining thermal management systems
Engineered Fluids has introduced the Gen5 SLICTank for cryptocurrency miners looking to push their overclocking to the limit and still maintain excellent miner longevity and reliability.
SLICTanks are unique in their construction:

They are delivered unassembled to allow for very high packing density and cheaper shipping

Constructed of a special 2-part epoxy specifically formulated for full compatibility with BitCool® and ElectroCool®

Tanks are available in 3 standard sizes based on their internal length dimensions
For complete technical information on SLICTanks
See Our SLICTanks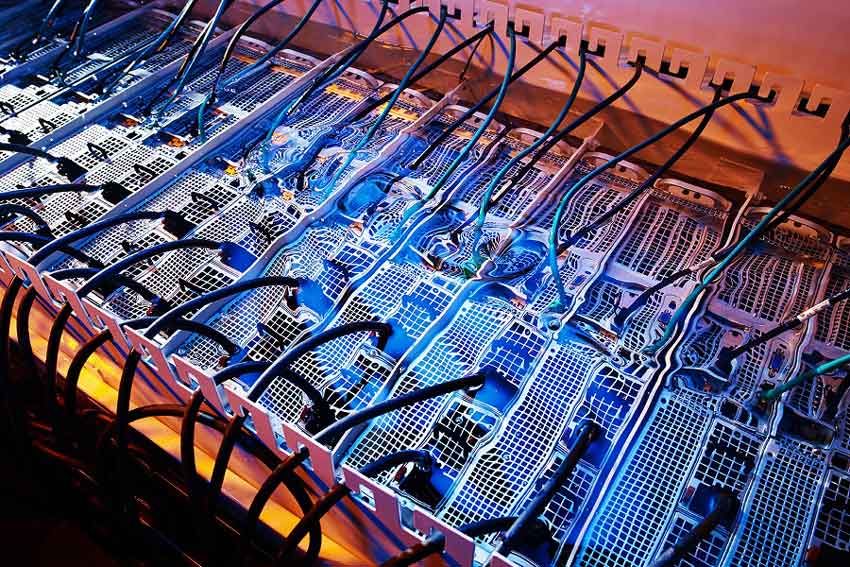 Immersion Tank Design Basics – Flow is the Key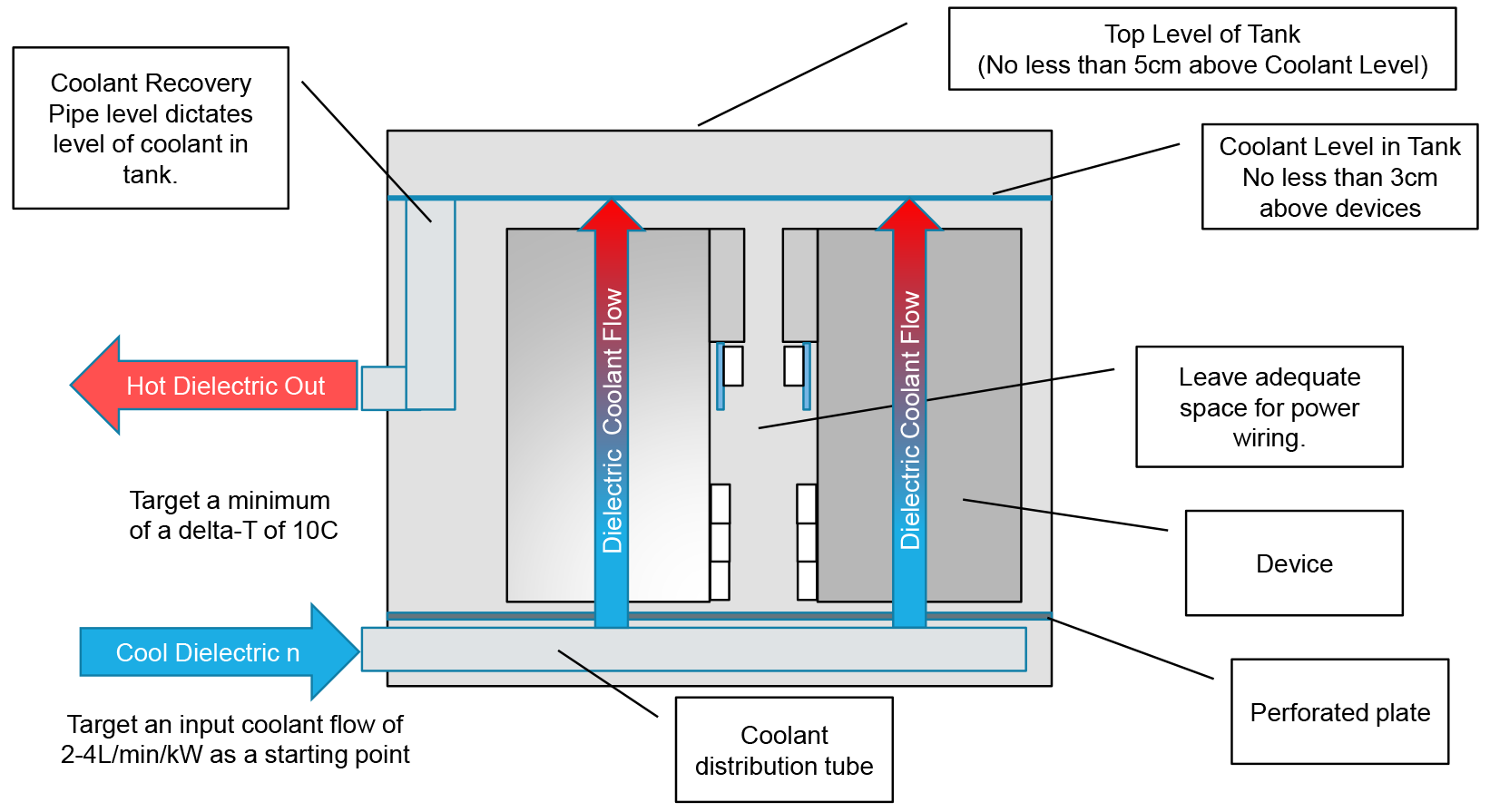 12ga Cold Rolled Steel – The cheapest and easiest material
Easy to form, bend, weld, long lasting, and impervious to heat
You don't have to paint the inside of the tank, but we do recommend painting the outside with two part epoxy paint or have it high temperature powder coated

Stainless Steel – Long-lasting, but expensive
Great look, no need to paint or finish.
Materials can be expensive and difficult to weld without experience.
Aluminum – easy to form and cut, but increasingly expensive
Easy to form and cut out parts, long lasting.
Difficult to weld unless you have experience.
Polycarbonate and acrylic are great clear tank materials, but the chemical welds are not strong enough given a high heat load and high volume in large scale tanks
We recommend using acrylic for small test tanks and display tanks.
It is easy to work with and chemically weld.
Do not use bonding glue with polycarbonate, it is porous to ElectroCool and BitCool.
Use of Non-metallic Tank Materials
Grounding is critically important when using non-metallic materials!
When using any type of non-metallic materials in your system like:
cPVC Pipe, cPVC Fittings, Acrylic, Polycarbonate Tanks, etc.
Static electricity will build up due to the passage of the BitCool and ElectroCool Dielectric Coolants flowing through and over the other non-metallic dielectric materials.
As the Dielectric Coolant flows over a non-metallic dielectric material electrons are stripped away from the stationary materials and a static charge will build up in the flowing dielectric coolant.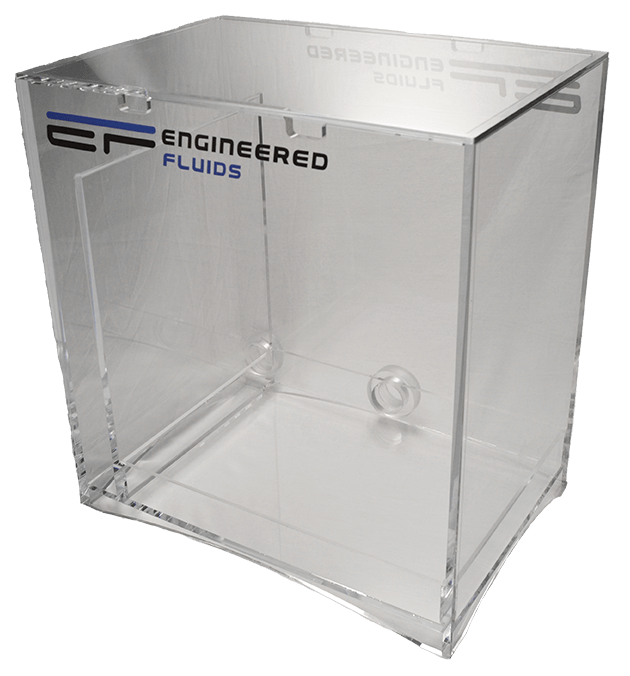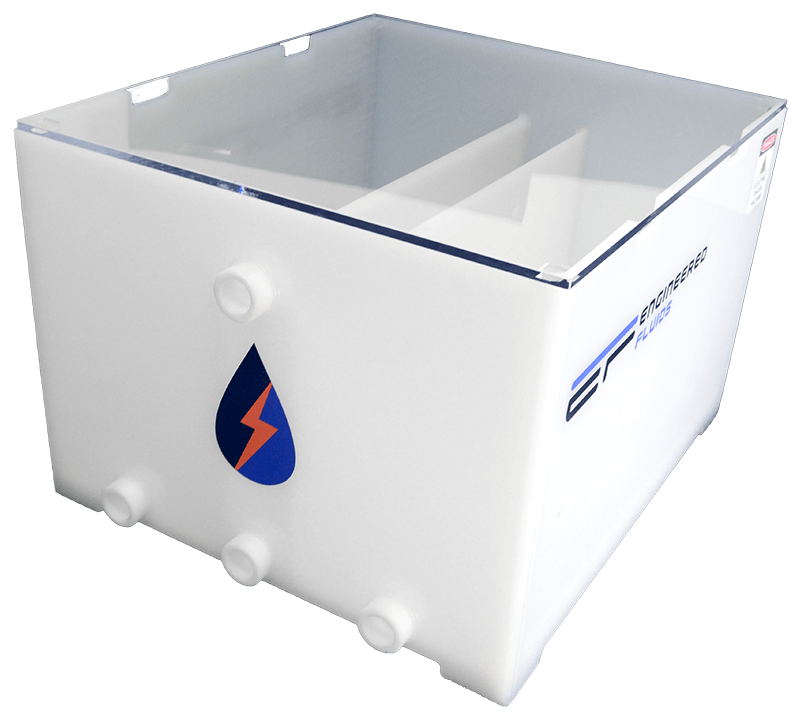 If the system is not properly grounded a very large static charge will build up. This charge can easily damage electronics and/or shock the people working on the system. With metallic tanks the easy way to avoid any issue is to ground the tank.
When using a non-metallic tank the simplest way to ground the system is to use a copper or steel plate or strip on the bottom of your tank and ground it well. What is important is that your coolant flows over the grounded plate. The larger the surface area the better the grounding effect.
Crypto Immersion Tank Design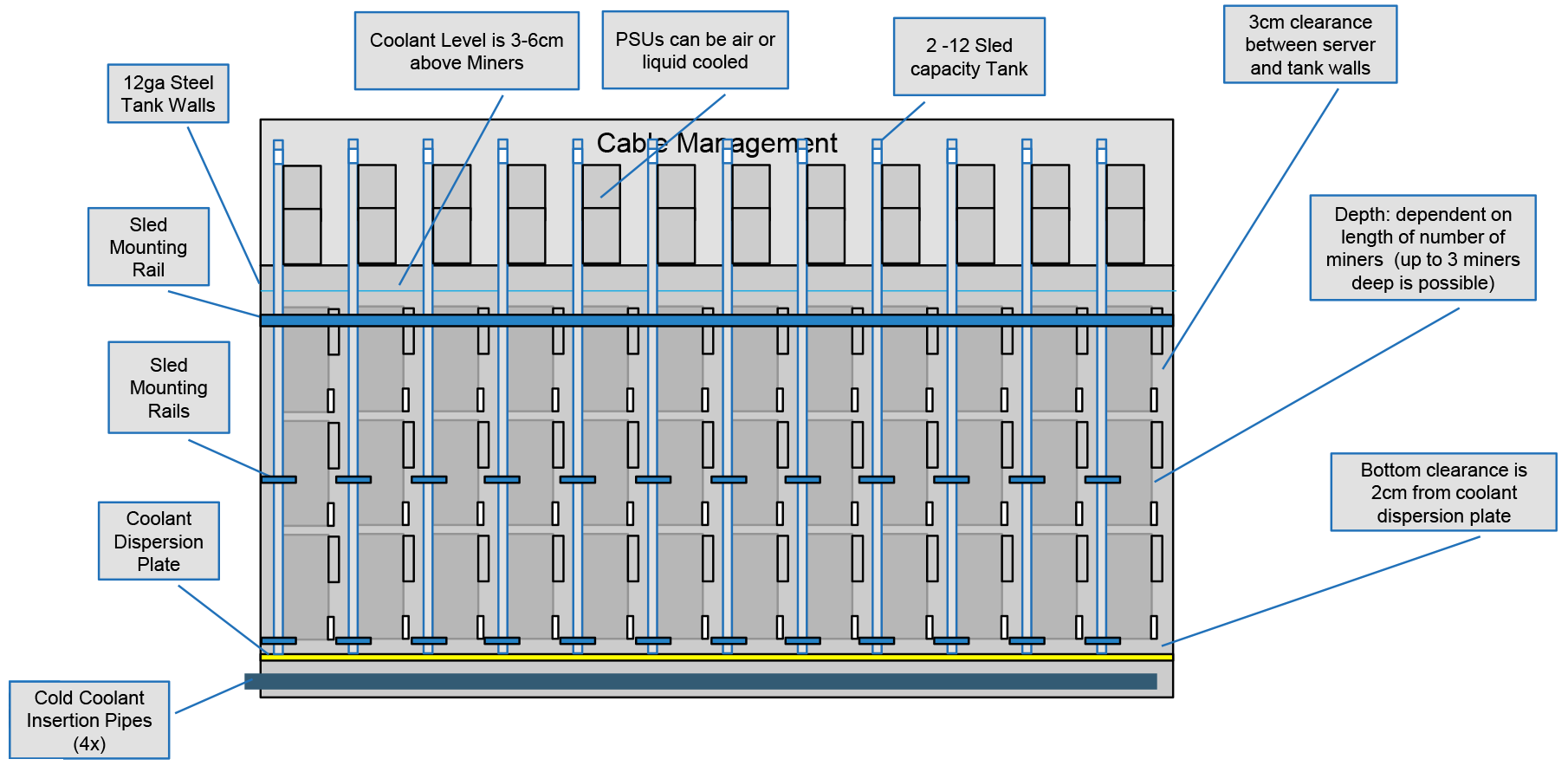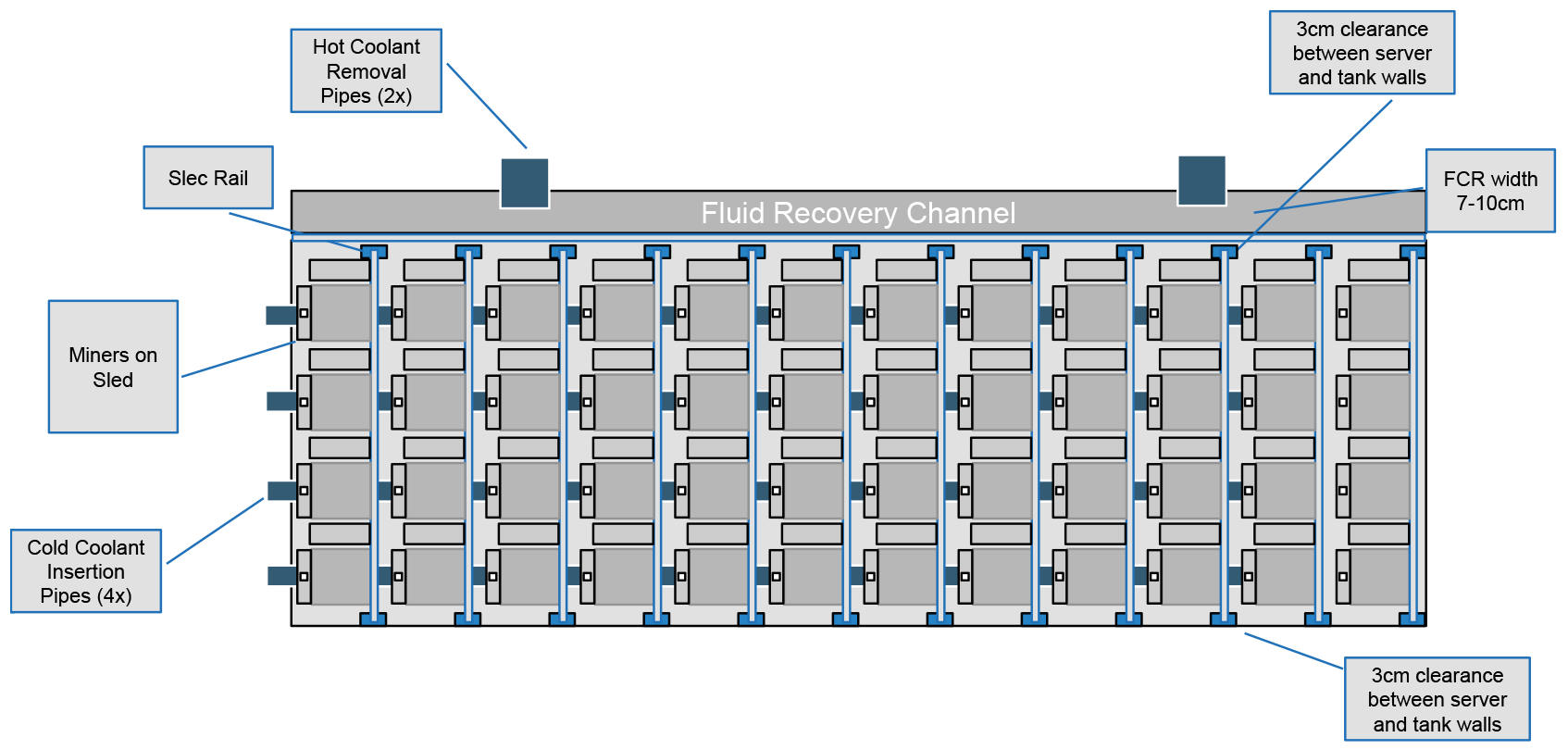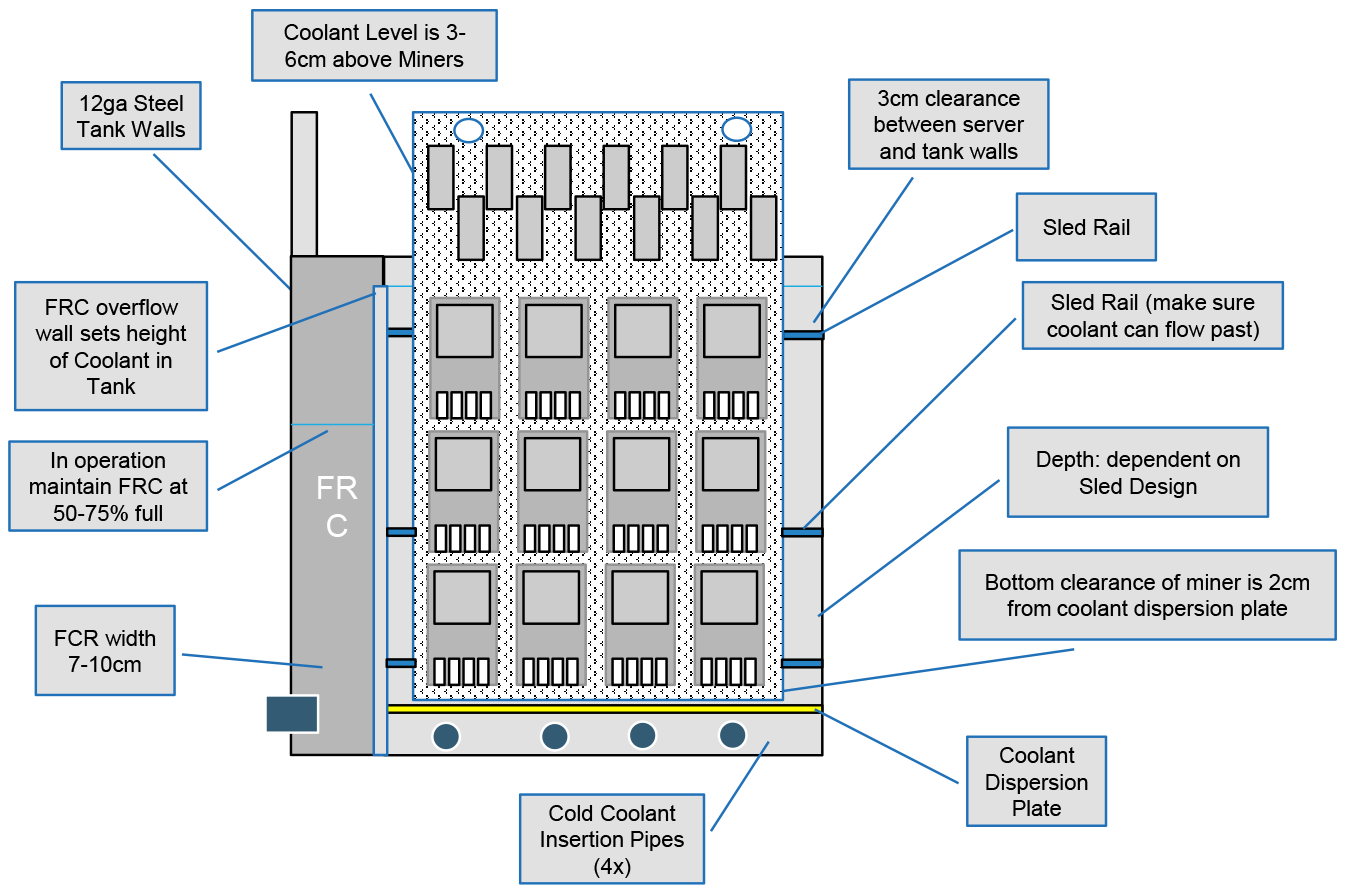 Side View – PSUs Immersed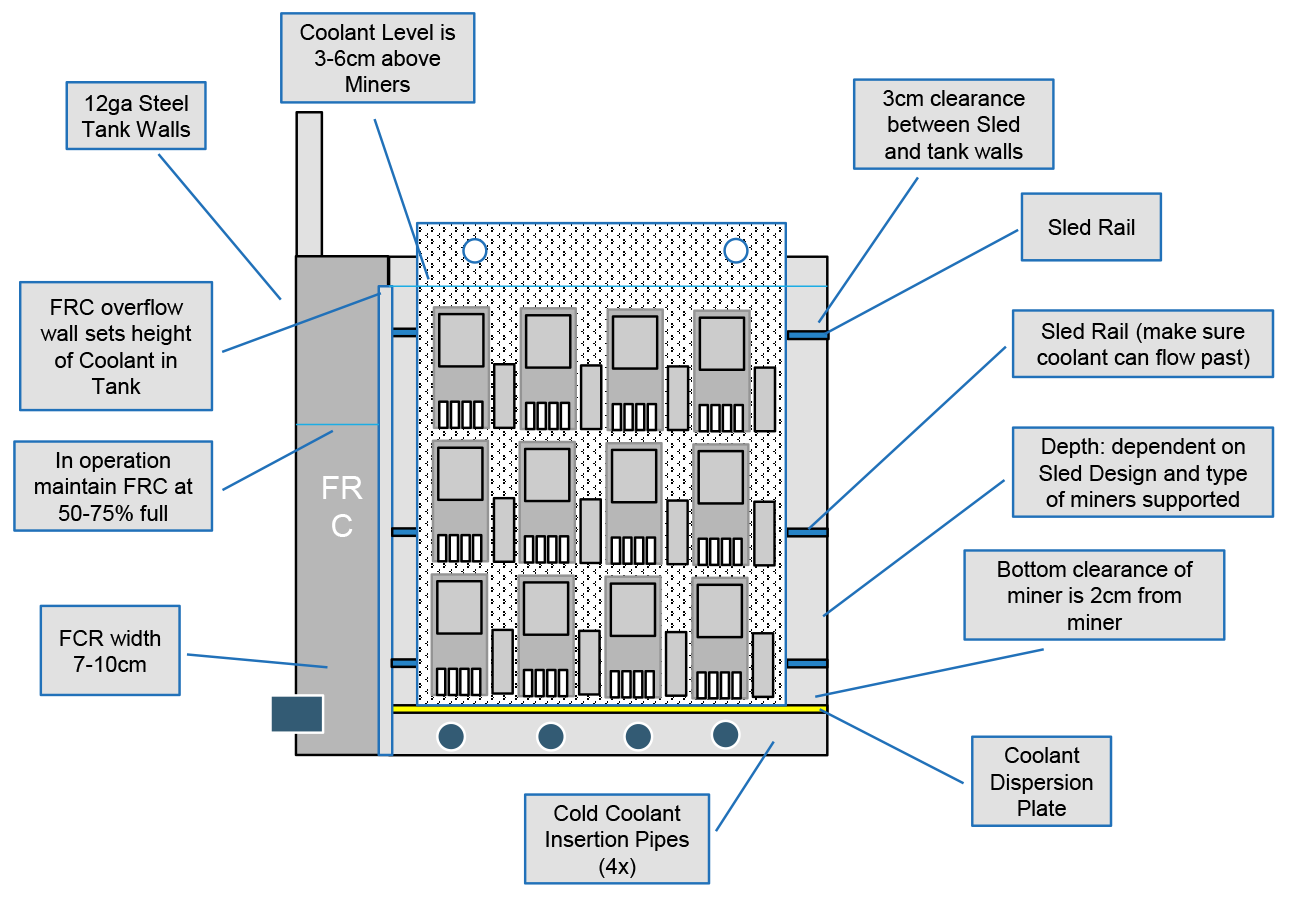 Crypto Tank – Miner Sled Designs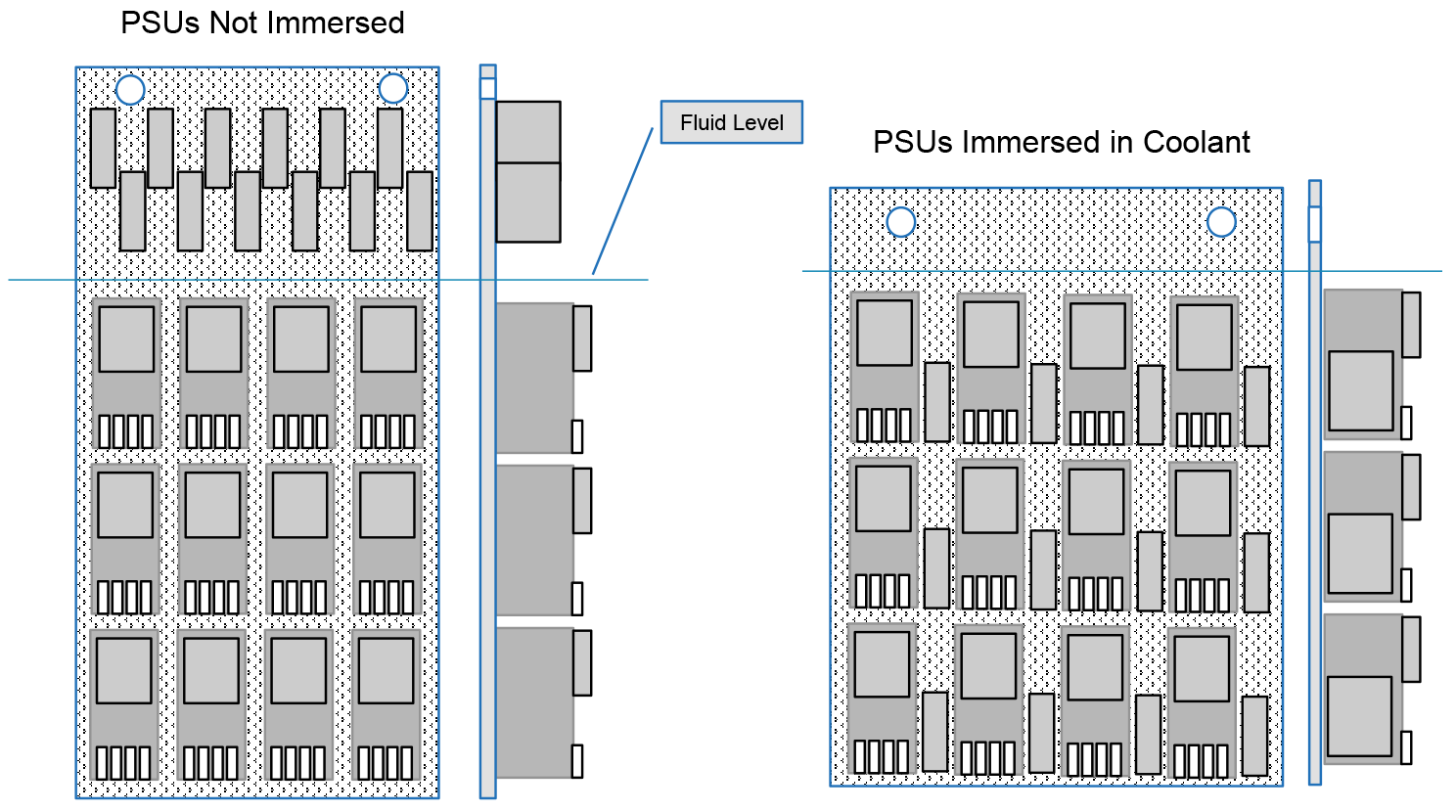 SLIC Crypto Tank – Design Considerations
Things to consider in your tank design:
For ASIC Miners use BitCool BC-888 Dielectric Coolant.
For GPUs, FPGAs use ElectroCool EC-100 or EC-110 Dielectric Coolant.
Check your miner physical dimensions as they change often and incorporate some growth volume in your tank design.
Position a lifting mechanism about the tanks (engine lift, or a rail crane assembly) to raise and lower heavy devices and sleds in and out of tanks.
Leave enough empty volume in the fluid recovery channel to allow the displaced fluid to not overflow the tank due to insertion of new devices.
Ensure you have adequate flow across all devices, this is dictated by design of your dispersion plate and the overall pressure of the incoming coolant.
Keep in mind that cabling, especially power cabling on board the miners takes up a lot of space, and you must plan for this volume in your design.
To prevent capillary action in ethernet cables drawing up coolant you can create a capillary break by striping off 5-6mm of the cover a few cm above the fluid and separating the wires by at least 2mm from each other.